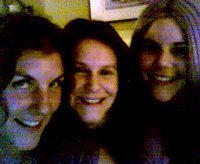 We're getting ready to go out,
Raye
, her friend Tanya, and I.
It's New Year's Eve. We're having drinks, talking about girly things, putting on makeup, doing our hair.
And of course, we needed to take a picture to just say hi to everyone, and Happy New Year's!
They're off to the Docks and I'm off to a Carribbean Christmas NYE house party with
Alex
. Although I am feeling the pull of the dance floor as we listen to
Lust for Life
here in my apartment.
That's what the chocolate martinis do to you.
May the dawn of 2006 put joy in your shoes.