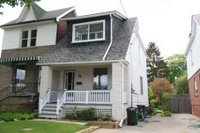 Well, I started my first round of house visits tonight in earnest. Now, I haven't yet sold the house, so I really need to get a signature on the line before I can do anything, however, I still wanted to get out and see what's available right now.
And I saw some great stuff. But I realize that, no matter what I look at, the nice stuff will go for WAY more than it's listed at. And it's only the crap stuff that will stick around and/or go for a price that's reasonable.
So I'll have to compromise. Live somewhere else. Further from downtown or further from the subway. Something will have to give. But there is a lot out there. Some of it is beautiful -- the house above, for example. But it will not go for a price that I can afford.
I saw one cute place that is on a great hidden street (a little further from the subway than I'd like) which has a really weirdly located kitchen. In the basement. With drawers that you can't actually open if the fridge is closed. And a bedroom right beside the front door with no door on it. But it has a great garden. And it's not expensive. And cute.
Conversely, on a busy street, there's a ginormous house with almost too much space and a somewhat reasonable price. But it just doesn't feel like me.
Ah, I remember when I last went through this. What a difficult time. All of the places are either fine or not-really... depending on what kind of mood I'm in. They've all got something wrong with them. But they're all livable.
And at this point, I almost don't care. I feel like just going for WHATEVER. Which of course is a mistake. And nothing will happen until I sell the house anyway, so really it's all just comparison window-shopping at this point.