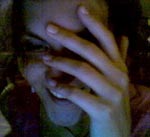 Today was a good day.
Any day can be a good day when you've got someone washing, massaging and fussing over your feet. And hands - let's not forget the hands!
I'm very thankful for the sweet spa gift certificate from my awesome brothers. What a spa! I got to hang out in a fluffy white robe, drink tea, nibble biscotti and read fashion magazines while my nails dried.
Nearby, a stream trickled by. It was truly a relaxing experience.
And look at the beautiful job they did of my nails. All neat and trim and elegant. And you should see my sexy toes! I am beautiful!