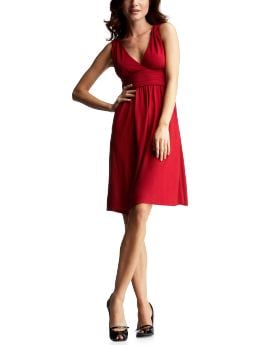 Last night, I decided to help a friend in need with their pant selection at the Gap. Usually, this is something I love. It was still something I loved, except I forgot about the trap potential of that store.
This past summer, I bought TWO cute dresses there. And they're both my kind of dresses. Empire waist, coming away from the hips. Falling just above the knee. Great colours. Don't have to be ironed. Can be dressed up or dressed down. Sexy or work-appropriate.
Perfect.
And I thought: I don't even have to LOOK at the dresses. I can just look for the pants for someone else. Because I don't need (or like) pants.
And then there was a girl in the changing room who was trying on dresses. I couldn't escape it. There was THE dress: the super cute one. And I almost made it out of the store before breaking down and grabbing it to try. Actually, grabbing it in two sizes and two colours, and trying it on.
Verdict?
It looked GOOD
.
Argh.
And I had to leave it behind.