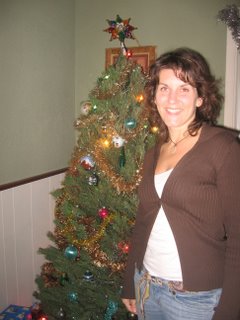 Last night, we decorated our tree... Will tried to sit it out on the couch again, but he finally broke down and put the most ugly decorations up, front and centre, and laughed. And of course, Jen took them down and hid them again.
We all took down our presents and laid them under the tree. There are less this year only because we're getting money for boxing day shopping. Still, having already opened my stocking this morning, it seems like the usual way too much fun stuff! (We've only gotten as far as our stockings this morning... and actually it's already noon. We have problems getting to the gifts. We like to drag out the pleasure.)
Then we settled down to a rousing game of Balderdash. Jen dropped out part way through, finding the fake-definition writing far too stressful for Christmas Eve. We ate ice cream sundaes and drank yummy liqueurs. And I continually picked Matt's definitions as the "right" ones. I'm a sucker and he won.
Did you know that a "stammel" is rough, dull red material?
And "fuscate" is to obscure with paint?
And that a "bibble" is someone who drinks too much?
Now you do.
And now we'll try to use those obscure words as much as possible. We're so cool.
And now off to open actual presents!