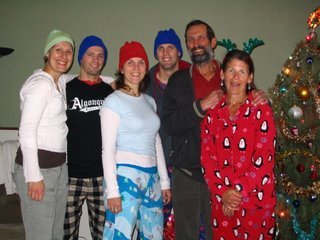 Did we really finish opening all our presents already?!
I woke up at 8am -- solely based on excitement -- and started on my stocking. Strawberry perfume and a book by Judi Picoult and Psychology Today and a red fleece hat (seen here), jewelery, underwear, socks, decaf earl grey tea (my fave), lip gloss, money... I could go on. I waited until everyone else got up. Watched them unveil their own stockings with as much interest as I unpacked my own.
That took us to noon. Seriously.
And then, aside from the awesome presents I GAVE (which is truly my favourite part), I got a white pashmina, nightgown, Lulu Lemon sweater, gift certificate for the Yoga Sanctuary (yay!) as well as for La Senza. And, of course, some chicken poop. I'm sure you got some too? It's the hot thing this year, according to my dad. My garden will love it, he says. I'm sure it will. And I'm not so sure that my belly is loving all the chocolate that I'm getting and putting in my face. I've already won $5 on a lottery scratch card. And there's still more to scratch. So I could be a very rich woman as I write this.
The best part of the whole day was when my mom got her sewing machine from my dad. She cried, she loves it so much. It made my heart feel good. She also really likes the gym membership we got for her. She's already planning the multitude of activities that she's going to partake in.
We finally stopped and made dinner. The usual turkey, potatoes, gravy and tutti fruitti (basically, stewed fruit). Soon I'm thinking that the ice cream sundaes are going to be broken out. MMmm. Just what I need. More food. While I finish reading that Psychology Today in front of the fire and winning more cash!
Tomorrow, we go shopping for some treasures at the sales. I can't wait.