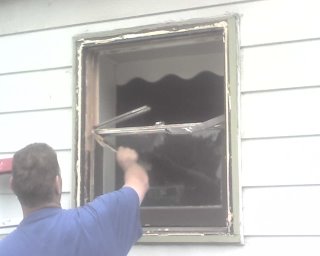 This is my kitchen window a couple of minutes ago. Smashed. Yikes. Scary.
They're smashing in all the windows so that they can replace them today. So, yay, new windows but goodness, demolitions seem barbaric.
I can't WAIT until the new windows are in and the stucco project is complete. Alex seems very confident that we'll have the front of the house completed by our party this weekend. I'm not so confident.
He's so confident, in fact, that he's started creating new projects. Like, the porch railing, for example. He just took it down. One minute he's taking off the stucco with a blow torch, and the next minute there's no porch railing. OK. Ya, it's ugly. But I don't need a new project right now, with 4 days to go until the big day.
I'm not saying that it didn't need to be done. I'm not even saying that it can't be done in time. I'm just saying that MAYBE we could wait and focus on our CURRENT huge, horrible project before we start on another huge project.