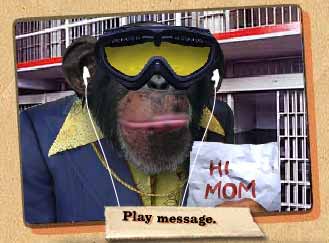 What kind of Valentine's Day card did you get?
In typically nerdly fashion, I got a
monkey card
.
To be fair, I sent the first monkey Valentine's Day card. Mine was better, if I do say so myself. She was pretty with a bouffant beehive hairstyle, a sexy pink-feather negligee, and a heart shaped card that reads "I HART YOU". Oh, and with a man's voice that just happens to have an English accent.
Come on. Tell me that's not the best Valentine's Day gift you can think of.