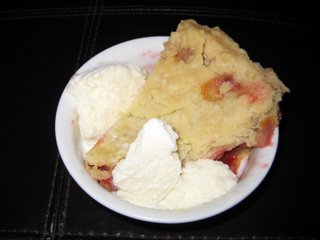 Dear Mom,
I'm sorry. I've found something to replace a very important part that you've played in my life for the past ~cough~ years. I've found
Williamsford Pie Company's
strawberry rhubarb pie and I'm not proud of it.
In fact I'm a little sick about the whole thing. Might have something to do with the fact that I just ate half of the pie I purchased yesterday on my way home from Southampton. And when I say "on the way home" I mean, I had to significantly detour to get to the pie store.
In fact, much of the weekend was dedicate to gorging myself on a lot of food that wasn't designed to be (a) good for me; (b) eaten for a meal; or (c) eaten with such staggering gusto.
Friday night, Gordon and I got in our rental car and began the over three-hour trek on Hwy 10 (the whole way) to the Saugeen Shores. When we got there, we ate a rather pleasant, average-sized meal or ordinary composition. Tasty and not yet disgusting.
And then Gordon said that I needed ice cream, which of course I did not, so we all piled in the car to try to find an ice cream store that was open at 10pm. No luck. But Shopper's Drug Mart was having a sale on Ben & Jerry's. So it was that I had a chocolate peanut butter cup and chocolate sauce sundae at 11pm on Friday.
And Saturday morning had us at the local cafe, Armen's, where I devoured strawberry-and-cream cheese-stuffed french toast. With maple syrup of course. And I was able to taste the ham-and-cheese-stuffed french toast as well as the eggs benny that others ordered. At least this was after a significant walk about the town and shore. A walk back home and bike ride followed. To prepare my stomach for more, I guess.
Then we settled on the deck of the cottage to read magazines and feed chipmunks. After which sandwiches, quiche and sunchips were served. Certainly, I wasn't hungry, but how can one say no to their hosts? Especially with really yummy quiche?
And then -- wait for it -- a nap. Excellent follow up move, I must say. Followed by the part of the trip you might not believe: a
chocolate gala
. A benefit for the local museum just happened to fall on the date of our visit. And so there was chocolate fountain (with fruits and cake for dipping) and chocolate martinis and chocolate dipped potato chips and fudge and truffles and cheesecakes. And finally, when I thought my belly couldn't take any more, I discovered the pie table. This is where I found THE pie. Strawberry rhubarb, just a thin sliver.
"Where is this from?" I asked thinking I could get it at the local cafe. No luck. Williamsford. And we all know where that story led.
Later that night, we ended up at a bon fire where they were roasting marshmallows and hot dogs and I thought I might actually throw up if anyone talked to me about food again.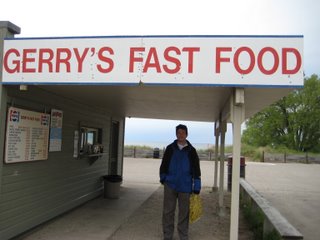 The next morning, we went for coffee in Port Elgin at Coffee Culture. And a little shopping here and there. We walked around for hours and ended up back at the shore, at an institution of the local culture. Gerry's. It had been talked about and talked about. Hyped up and down. We needed to know. And so we bought an extra large order of french fries and brought it back with us as a "thoughtful gesture" -- the local lore proven true as we munched and worked on our puzzle.
That night, not long after the needless deep fried potato extravaganza, Gordon and I made our hosts spicy Thai soup. With noodles and veggies and chicken and of course coconut milk. Calories from another country are OK. Besides, it had
veggies
in it.
And later, when the Tony Awards were on and I read the Discover magazine (my Cdn House & Home already finished) I needed to finish up the rest of that Ben & Jerry's because otherwise it would be like leaving garbage for my hosts to clean up, really.
And we know how the ride back to Toronto went, with the detours for pie... well, that, and a short stop at Champs in Shelburne. But back in time to return the car on time and get the subway across to my end of the city. And you know, since we were up at the Danforth we might as well get that amazing french onion soup at the Court Jester. And a peanut-butter-chocolate-banana sundae at Demetre's... and pie when I got home...
So, Mom, I guess what I'm saying is you don't need to make me anymore unhealthy food anymore. I think I'm over it.