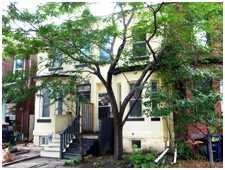 I've been a little quiet lately, I think.
I've had a lot of house stuff going on -- lots of house hunting and visits and discussions and calculations and organizing and disappointments. Some have passed me by. Well, many have passed me by. They have not been the right ones.
I'm now working on what may be the right one. Stay tuned.
* * *
10pm.
I have signed the papers!
Tomorrow is the house inspection, but since I'll be renovating pretty much everything anyway, I can't imagine that there will be any big surprises.
Some details:
Location: Broadview/Gerrard
Type: Townhouse
Size: Over 1100 sqft plus bsmt, 3 bdrm
Closing date: October 7th
Emotions: excited, nervous, anxious, relieved.
I thought that house hunting was hard. Now comes the real hard part: renovations!
I sat on the subway home, a little shell-shocked. So much can happen at a table at Starbucks. You can read a book, chat about the weather or sign away hundreds of thousands of dollars and several years of your life. Take your pick.
At Yonge/Bloor, I stopped at the Gateway Newsstand and bought a home reno magazine.
I'll need it. Designer opinions wanted!