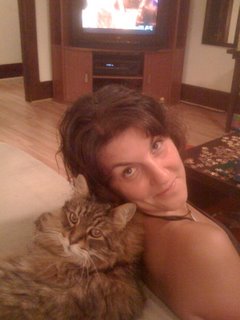 After a YEAR of not cutting my hair, I have a new haircut. And it's actually a
new
cut, because I don't think I've had this style before.
It all started when I went to my boyfriend's family's house for his birthday (see previous post). His sister cuts hair. She is a "Hair Stylist." And, as I said, I hadn't had my hair cut in a year.
It wasn't that I particularly liked my hair. No, in fact I pretty much hated my hair and was pretty aware of the need for the cut. But there was the problem of finding someone to do it. I've been looking around. I tried a couple of people in 2007. I didn't really like them much. I even, however, went so far as to call a salon. But they didn't answer the phone. And I don't think I left them a message as I knew I'd be too busy to deal with it when they did call me back.
Excuses, I know.
But I figured I had to give it a shot. I was a bit nervous, mostly excited. So I wet my hair. I sat in the high twirly chair in her kitchen. She got out the tools. I showed her a couple of pics I'd seen in a magazine that had elements of hair styles that were OK.
And then she snipped. And cut and razored and tossed some strands about and snip, snip, snip... pull, style, twirl. Done.
I got up and looked at myself in the mirror.
"I'm so cute!" I yelled.
Really. I am SO happy! She did a totally fantastic job! My hair is cute.
And Gordon liked it. He said something pretty typically (for him) inappropriate (something to the effect of "Wow that's way better than the crappy hair you had before" -- minus the word "crappy") but he liked it a lot too.
So today was my first day of styling it myself. And it's not quite as good as when SHE did it, but it'll take some practice. But it's fine. And people are still stopping me to tell me that my new short hair is cute, which is nice. (But you know, what are they going to say, really? "Did you cut your hair? Ya? Oh. Huh." Really, they have to say it looks nice.)
OK, I have another picture of my haircut. If you're on Facebook, you've already seen it. But you can see it on my website in my Facebook widget as well, off to the right there. Here's a larger version.